May 8, 2020 05:32 PM Central
Melissa Smith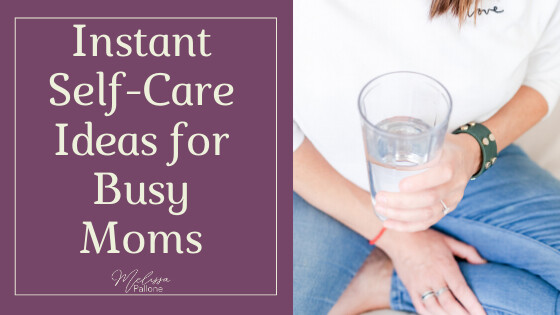 Most of the moms I know who are stressed out and in desperate need of self-care are the same moms who insist that they simply don't have time.
Between full-time work; distance learning with multiple children; running a household; building a business; supporting a husband; and being a friend, there just seems to be no time left at the end of the day.
I think a lot of the time, we equate self-care with taking a long bubble bath, or spending an hour at the gym.
What if I told you that some self-care activities could be done in just minutes, or even seconds?
If you find yourself too busy to commit to regular self-care, check out a few of these instant (or almost-instant!) self-care ideas.
1. Stretch
Stand up, put your hands on your back like they're in your back pockets, and do a back extension. We spend so much time hunched over our computers, leaning forward over the stove, putting laundry away. This simple stretch is SO good for our backs! Then just raise your hands overhead and stretch upwards.
2. Drink water
The time it takes to get up and fill a glass of water, then drink it, can be used as just a minute to breathe. This also helps you to get a little more hydrated, which can do wonders for your mindset and health.
3. Check out the daily story on the Bible app
This is a new feature that has only just recently rolled out. It's the verse of the day, a 1-3 minute video thought from a pastor or Bible teacher, a quick devotional to read, and then a 1-2 sentence prayer. It's new every day, it's not a plan that requires you to stay caught up, it takes only minutes, and it's always refreshing. If you miss a day, it's no big deal. You're not behind, you just check out the story the next day.
4. Use a Stress Away roller
Stress Away is one of my favorite Young Living essential oil blends. I keep a roller in my purse to use any time I need it, and I diffuse it a LOT now being home all the time. If you've never used it before, I would be more than happy to send you a sample! Just one quick inhale of this blend and you feel like you're transported to a tropical island.
5. Pet your dog or cat
Did you know studies show people with pets live longer? Why is that? Because spending a minute petting our furry family can slow our heart rate and release dopamine and seratonin, which regulates your mood and reduces stress. Just make someone else clean up the poop.
Here are a few other bonus ideas for you:
Send a short Facebook message or text to check in on a friend

Mail a hand-written letter or quick postcard

Go for a quick, 5-10 minute walk
I also know that the idea of making sure you complete some kind of self-care can feel daunting and stressful in itself, because it's just one more thing you "should" be doing. If none of these activities resonates with you, find something that DOES.
True self-care is taking care of yourSELF, not anyone else, so you need to find things that make you feel good. If you miss a day, don't stress.
Just know that YOU are important. You can't serve anyone if you're stressed to the point of sickness. It's imperative that you stay healthy, and one major component to this is finding whatever self-care works for you.
So tell me, if you had all the time and money in the world, what act of self-care would you choose?
To grab my
free resource
on 5 Ways to Boost Your Energy,
click here
!