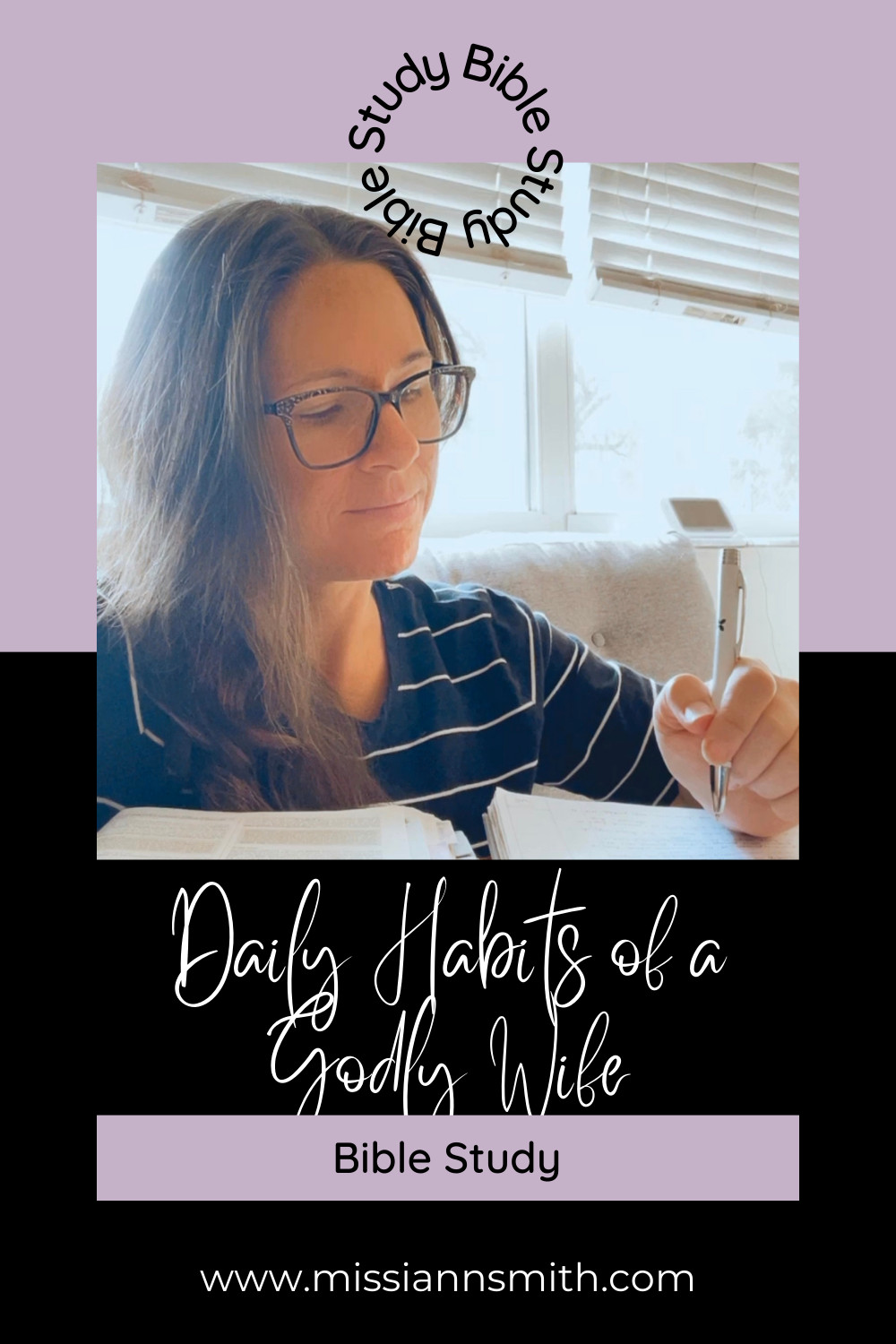 What comes to mind when you hear the word "habits"?
Does it have a positive or negative connotation?
In my journey as a wife, I have developed, broken, cultivated, and maintained all different types of habits.
Some habits were bad, and likely contributed to various difficulties I've walked through.
Some habits are good, and contribute to the reasons I am now more deeply in love with Christ and my husband, and growing my faith and marriage together.
If you are struggling to cultivate some good habits that will serve both your walk with Christ and your growth as a wife, I would love for you to join me over the next couple of months to break down the 10 Daily Habits of a Godly Wife that I would encourage you to make a part of life.
Today let's talk about what I would consider one of the first and foremost, and more important, habits: Bible Study.
After my first marriage imploded, I spent several years seeking to learn what it meant to be a submissive, respectful, godly wife.
In the midst of my learning, I had my heart broken and, because my faith in God was solid, I turned to worship and reading devotionals all day long.
I literally spent hours reading through emailed devotionals, blog posts, and topical Bible studies.
BUT - can I tell you a secret?
While those were helpful, they can NOT take the place of studying God's Word, deeply, richly, in its entirety, for yourself.
When we read a devotional, or go through a topical Bible study, what we're effectually doing is reading someone else's interpretation of scripture.
Hebrews 4:12 tells us:
For the word of God is living and active, sharper than any two-edged sword, piercing to the division of soul and of spirit, of joints and of marrow, and discerning the thoughts and intentions of the heart.
How can it be alive and active in us, how can it discern the thoughts and intentions of our hearts, if we are reading someone else's thoughts?
While we do need Bible scholars and teachers to help us understand what we're learning, if we aren't able to read the Words of God ourselves, we are basically getting to know someone else's Father, rather than our own.
It's like playing a game of telephone, having someone else relay what they heard. Which may or may not be what God wants us to hear for ourselves.
If we are ignorant to what scripture actually says, how are we going to recognize false teachers?
This is why it's so important to learn to study scripture for yourself. Bible literacy is a skill that is lacking, and one that we need to be intentional about developing - not just in ourselves, but in our children as well.
A couple of study methods that I would recommend for you to check out are:
SOAP method

Verse-mapping

Homiletics
This blog post from Bible Gateway expounds on a few other methods as well that you may want to try.
God is our source of ALL things - power, patience, joy, peace, strength, wisdom. When are lacking in any of these areas, it's likely because we are not plugging into Him as our power source.
This must be done daily. Just like your marriage wouldn't work if you only ever talked to your husband for 5 minutes every few days, your relationship with God will not thrive if you only spend a few minutes with him periodically.
Find a method of Bible study that works for you, that is FUN and interesting and helps you learn more about Who God is, and what His Word is teaching - then cultivate a habit of daily and deeply studying scripture.
Do you have a favorite Bible study method, or a resource you use to study? I'd love to hear about it! Comment and share with me!