Jan 6, 2023 12:29 PM Central
Melissa Smith
christian life, exhaustion, fear, finding peace, godly wife, marriage, mom life, positivity, prayer, scripture, servant's heart, stress, wife life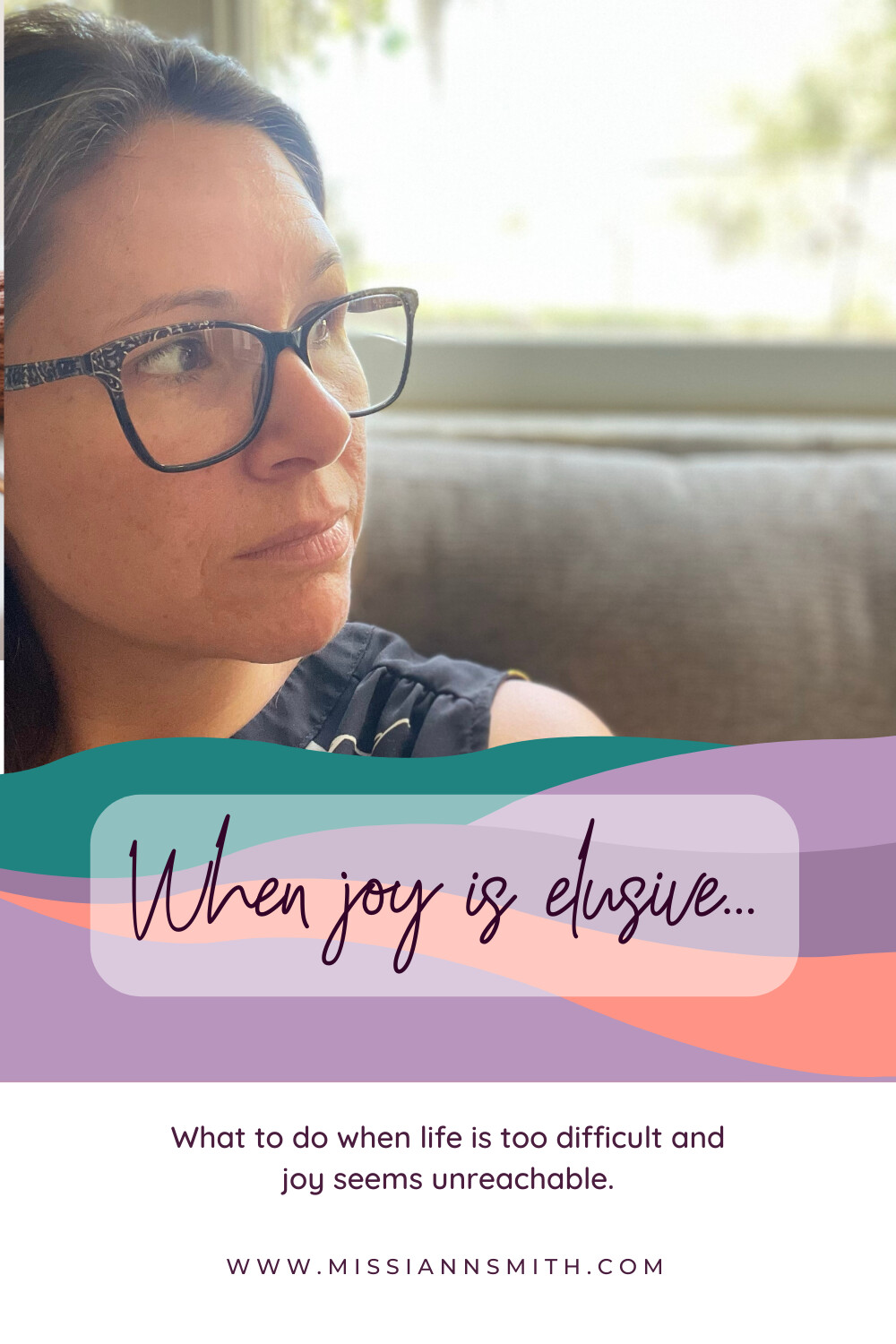 When you're in a difficult season, it's so easy to feel defeated.
When your child is a prodigal.
When your marriage is falling apart.
When your doctor gives you a terrible diagnosis.
When a loved one dies.
When you lose a home, a job, or a friendship.
When finances are tight, or non-existent.
It can be SO easy to think to yourself, "If only this would change, I could be happy. If only..."
What does God have to say about things like this?
First, we are to weep with others when they weep. When you find yourself in a season of weeping, you allow yourself to weep and work through those emotions, and you surround yourself with people who, like Job's friends, will just sit in the weeping with you.
Second, you lean into God as your source of comfort, of relief, and of your JOY.
Scripture tells us in Romans 18:18:
For I consider that the sufferings of this present time are not worth comparing with the glory that is to be revealed to us."
It's important to remember that nothing happening to us on earth can compare to the beauty and indescribable joy awaiting us in eternity.
When we get there, nothing here will matter anymore. All that will matter is being in the presence of Jesus.
Yes, it's painful to think about your child rejecting God and missing out on this glory. It's painful to walk through a divorce, or scary medical diagnosis, or a betrayal.
But when you feel as though you need your child's salvation, or your marriage to be a godly marriage, or you need to have all of your bills paid, in order to feel joy, then you have elevated those things ABOVE Jesus.
When you seek something other than Jesus for your joy, you've made that thing an idol.
Christ is sufficient for us.
2 Corinthians 5:8 tells us
And God is able to make all grace abound to you, so that having all sufficiency in all things at all times, you may abound in every good work."
We have all sufficiency, in ALL things, at ALL times. And the reason for this is so that we can abound in every good work.
It's difficult to do good works when we're anxious, depressed, waiting on something else to bring us joy, isn't it?
Sweet friend, you don't have to wait to do good. You don't have to wait to find JOY.
You make known to me the path of life; in your presence there is fullness of joy; at your right hand are pleasures forevermore.
Count it all joy, my brothers, when you meet trials of various kinds, for you know that the testing of your faith produces steadfastness. And let steadfastness have its full effect, that you may be perfect and complete, lacking in nothing.
The hope of the righteous brings joy, but the expectation of the wicked will perish.
When we place our focus on Christ, and recognize His sufficiency and ability to BE our complete joy, we will have that
joy in abundance
- even when we aren't getting the earthly things we want or think we need.
Can you believe this today?
Can you believe Christ alone is sufficiently able to bring you all joy and peace, regardless of your earthly circumstances?
Comment below and let me know how I can pray over you today.