Aug 19, 2020 02:21 PM Central
Melissa Smith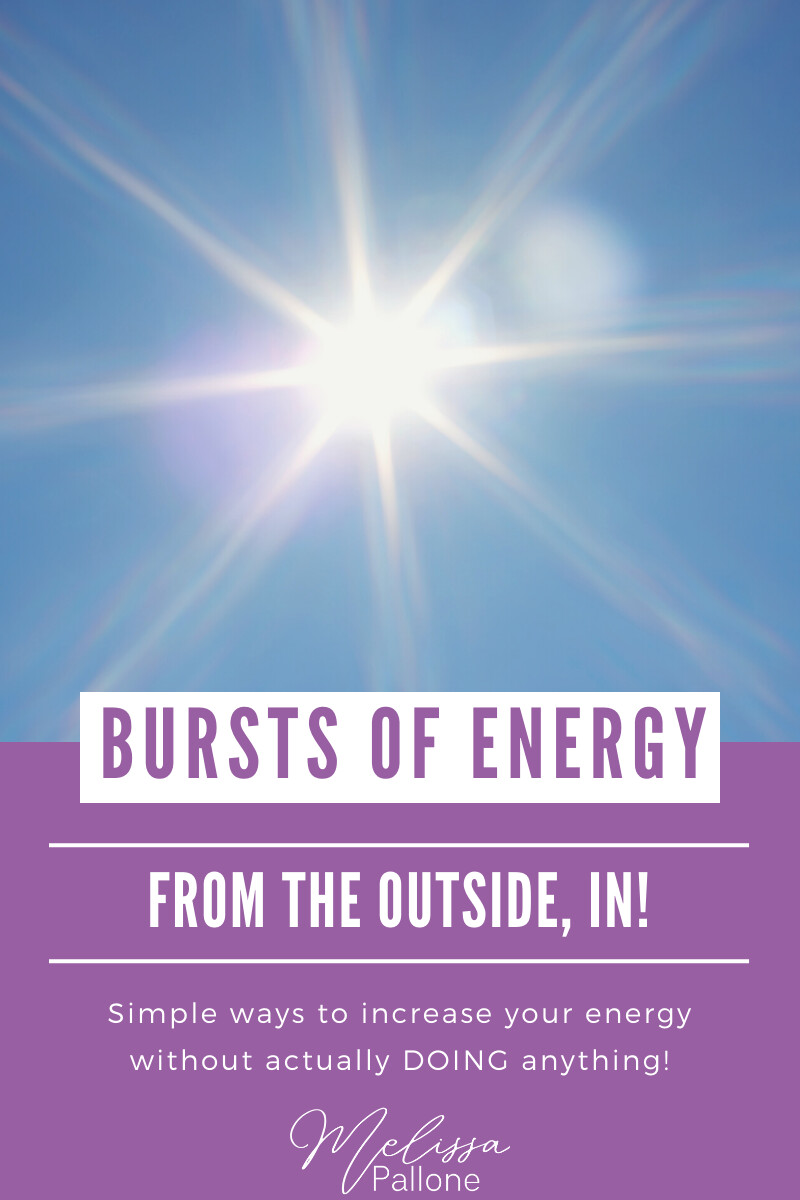 When we talk about boosting our energy, we often hear things like "drink more water", "get some exercise", "take your vitamins", and other things we need to physically DO.
But what are some
external sources
that can sometimes increase - or zap - our energy?
Exposure to Light
Have you heard of Seasonal Depressive Disorder? It's a real thing. That's when some people experience feelings of depression during the months when there is much less sunlight. The weather isn't as pretty, so we often stay indoors.
It's also common for people who work indoors under florescent lights all day to experience some symptoms of fatigue and depression, due to lack of natural light.
If you find this is the case for you as well, try making a habit of spending at least 10-15 intentional minutes outdoors each day. Even if it's cloudy, you can still reap the benefits of UV exposure and increased Vitamin D, which will boost your energy.
Scent
Our sense of smell is very powerful and can bring up a lot of memories. If we smell something that reminds us of something painful, that can drain our energy. Synthetic fragrances made in a lab with lots of chemicals can be incredibly draining as well, because our bodies weren't designed to process manmade chemicals. When we're around a lot of "fragrances", our bodies are fighting to work through those which means other functions (e.g. energy producing functions) can sometimes lag.
It's helpful to surround yourself with natural scents that uplift and encourage you. Fresh baked bread or desserts are wonderful if they invoke happy memories. Flowers and plants are great choices. An easy way to access scents like this is with essential oils! Just be sure you know the source of the oils you use, because so many are mis-labled and actually contain fillers or synthetic chemicals to make them more cost effective (I will only use Young Living because of their transparency and commitment to quality).
What You See
Scientists tell us that many different colors can invoke certain emotions, which can greatly affect our energy. Surrounding yourself with bright colors like yellow, orange, and green can be helpful. More muted colors such as grays, browns, and blacks might drain energy.
If you're able to paint your walls with colors that energize you, go for it! If that's not an option, some things you can do are to buy decorations like wall art, flowers, pillows, desk accessories in the colors of your choice.
What You Hear
When you surround yourself with sounds of complaints, or the musings of the melancholy, it's easy to take those feelings on yourself. Negative feelings like these can very quickly suck the life and energy right out of you!
If you find yourself listening to people who tend to complain a lot, make an effort to infuse the conversation with positivity, or consider spending less time with those people and more time with those who are upbeat.
Take some time to think about the music, podcasts, and shows you listen to. Do you feel encouraged, lifted up, and optimistic afterwards? Or do they leave you feeling sad or downtrodden? What enters our minds via words and music can have a dramatic effect on our emotions, which can then affect our energy levels.
After evaluating these different external elements, what are some areas where you think you could benefit from a few tweaks or changes?
---
To grab my FREE guide on 5 Ways To Boost Your Energy, click here!
To make sure you never miss a single post, sign up here to subscribe!